<!form method="get" action="http://dt-go.com/cgi-bin/mt/mt-search.cgi"> <!input type="hidden" name="IncludeBlogs" value="3" /> <!input type="hidden" name="Template" value="daddy" /> <!input id="search" name="search" style="width: 270px; height: 15px;" /> <!input type="image" src="http://daddytypes.com/search.gif" height="18" width="159" border="0"> <!/form><!br />
I Shall Call Him Mini-Mies. At Least Until Knoll's Lawyers Come For Me.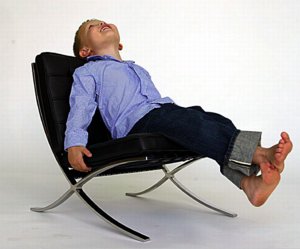 If Boom USA make a mistake with its knocked off versions of well-known kid's furniture designs, maybe it was ripping off people who're alive and selling the originals only 50 yards away. If you just stick to copying dead designers, not only is there less a chance of getting an "It. Was. The. Dukes. It. Was. The. Dukes"-style workover by some black turtlenecked diva, you might even find yourself published in the NY Times.
Knockoffs have been part of the high-end furniture landscape for decades, and no design has been more fought over than Mies van der Rohe's Barcelona Chair, which is copied by many and licensed only by Knoll. Now Genius Jones, the Miami & environs store, has put out a 2/3-scale version of the Barcelona Chair for kids called the Mini-Mies [nice]. And just as Modernica has done with their not-Eames fiberglass shell chairs--which are manufactured using original Herman Miller equipment--Genius Jones appears to have taken great care in the quality and construction of the Mini-Mies by having it produced at a Queens factory with experience manufacturing authentic Mies chairs in the past.
And in another nod to Knollian and Miesian authenticity, the Mini-Mies costs a bomb: the $3,900 price tag for black leather is almost exactly 2/3 the $5,600 base price for the real thing. A Miami Vice White leather version is also available for $4,400. Oy.
Mini-Mies child-sized Barcelona Chair-lookin' deal [geniusjones.com via nyt, img: alex quesada/nyt]
posted May 25, 2006 11:56 AM | add to del.icio.us | digg this
<!something is wrong with my adserver, so until I fix it, no ads>