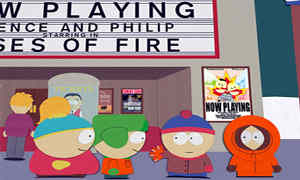 "Cuz the TV teaches us what our parents don't have time to sayyyy"
In yet another confirmation of the depressingly awesome prophetic accuracy of South Park: The Movie, a mother participating in the latest Kaiser Family Foundation study on infants and toddlers and screen-based media actually told her focus group, "My daughter knows her letters from Sesame Street. I haven'Äôt had to work with her on them at all."
Um, great? So I guess not "having" to work with your kid on the alphabet frees you up to attack Canada?
The Kaiser study results tell us what we already know: that most kids under 2 watch TV, of course, but also that we--parents--are behind the move because it makes our lives more manageable. As another mom put it--and yes, 1,000 "parents" were phone surveyed, but the focus groups were apparently all moms--"Media makes life easier. We'Äôre all happier. He isn'Äôt throwing tantrums. I can get some work done."
Whatever the imagined/assumed/marketed benefits of watching TV--or the guilt we're obliged to feel for letting a kid watch a show--the thing that really blows my mind are the numbers of households were the TV is on all or most of the time (32%), and the percentage of kids with TV's in their rooms (32% for ages 0-6, but 19% for under 1 year old). I mean, I can't comprehend it, even if the reasons parents give make shrug-inducing sense:
The most common reasons parents give for putting a TV in their child'Äôs bedroom is to free up other TVs in the house so the parent or other family members can watch their own shows (55%), to keep the child occupied so the parent can do things around the house (39%), to help the child fall asleep (30%), and as a reward for good behavior (26%).
New Study Shows How Kids'Äô Media Use Helps Parents Cope
[kff.org via nyt]
Babies and TV's Making More Sense to Parents
[
Two
upbeat TV for Babies articles in three days? I think the NYT must be readying the launch of a DVD series for toddlers:]