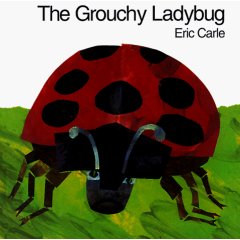 The kid and I were at the library the other day, so I took a glance through the whole of Eric Carle's oeuvre. Now we like us some hungry caterpillar and some busy spider like anyone else, but I have my complaints.
Like that the only friend the mouse can find is another mouse. And then there's that unrepentant crank of a ladybug who goes around trying to pick fights with everyone. Not only does the jerk ladybug not learn its lesson, Carle makes ladybugs the hero. And his dedication forThe Grouchy Ladybug betrays an unalloyed aphidophobia cultivated, no doubt, over years of narrow-minded gardening :
Aphids are very small insects.
They suck the juice from leaves,
and then the leaves die.
Ladybugs eat aphids.
That's good for the trees, shrubs and
other plants that have leaves.
To the ladybugs, I have dedicated this book.
Three cheers for them!
If this were an isolated case, I could overlook it, but then I found this alarming author's statement on the cover of his 1970 title,
Pancakes, Pancakes!
:
"Modern-day pancake mix holds little charm compared to starting from scratch, and young readers will find their mouhths watering and will wish that they, too, could have real pancakes."
Obviously for Carle, "modern-day pancake mix" is just a stalking horse for American Innovation, Technology, and Industry. And the very premise of the book--which he's hoping to use to brainwash America's Youth--is a rejection of the law of comparative advantage on which our entire capitalist system is based. Carle is all but calling for a revolution against the American Way of Life. This Chameleon can try to change his colors, but he can't fool me: Eric Carle's true color is Red.
Check out Eric Carle books on Amazon [amazon]