What the baby boom? What pre-school crunch? If all you had to go by was them decorator showhouses that constitute the official sport on the Upper East Side, you wouldn't know a baby'd been born in NYC in a hundred years. Even today, no decorator or decorator show house coordinator could be bothered to tackle a nursery.
And that, my friends, is the difference between Manhattan and Brooklyn. The BlockParty is not technically a decorator showhouse, true, it's a glorified model home for a 14 townhouse development by the firm Rogers Marvel [called, duh, 14 Townhouses]. And there aren't actually decorators, just "curators," who have filled the house--including a nursery--with art and design from Brooklyn.
The complete list of nursery contributors is on the website, but it includes a couple of familiar pieces: Argington's toddler bed [below] and Fuji toybox are there, but it's not clear if it's the original birch or the newly introduced walnut finish. Also, Iglooplay's Tea Pods, biomorphic foam and wood table/seating thingies are in, too, but not [it seems] their ,sweet molded ply Mod Rocker, which is my favorite piece they've done so far.
align="center">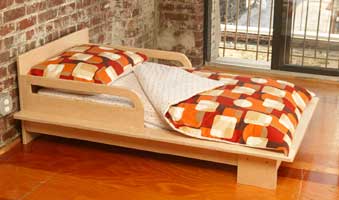 Anyway, the whole show kicks off this weekend in conjunction with ICFF, and as soon as photos turn up, I'll post them here. [Or if you have or see any, definitely send them along, or tag them with daddytypes and upload them to flickr.]