The Creative Playthings Hobby Horse was produced in the early-to-mid 1950's by the Princeton, NJ-based toy manufacturer, and it has long been recognized* as a classic of modern design. [Interesting bit of trivia I didn't know until very recently: the Philip Johnson who's usually credited with the design was one of the chief designers at CP, not the Googly-glasses Nazi architect.]
Anyway, vintage original Hobby Horses can sell for anywhere from $1000-1,500 [Kid-o has a particularly nice example in their store for $1,500.], and they're pretty rare. But lo and behold, there's one on eBay right this second. And it has the phenomenally low "Buy it now!" price of just $375.
Well, it seems low to me. Although the description says it's in beautiful condition, with just one minor nick, and there's a presumably authentic "CP/Princeton" stamp on the underside, the color looks a little off to me. It looks like it was stained a long time back, which might be enough to keep the purists away. But I'll invite the mid-century design sharks around here to weigh in--or to snap it up, THEN weigh in.
* Did someone say "long recognized? If the Hobby Horse looks especially familiar to you, it's because a very similar *cough cough* toy was featured on the cover of DWR Jax's catalog recently. When DWR first launched their Red Ball Rocking Horse, the catalog copy made it sound like DWR's founder had stumbled across an anonymous piece of folk art at a garage sale and had decided to have it manufactured.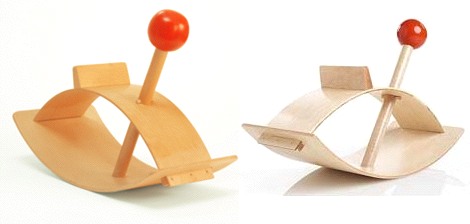 l: 1950's vintage CP Hobby Horse at kid-o,
r: DWR's totally unrelated Red Ball Rocking Horse, from a rediscovered 1965 design.
When I contacted DWR about the origins of the design, however, and how especially well-known the piece as a creation of Creative Playthings, they quickly upped the accuracy of their website, at least, by crediting Johnson and CP as inspirations for their design. Very responsive.
But now, the site reads as follows:
During our travels in the last few years, we have come across compelling modern items no longer in production. The Red Ball Rocking Horse originated from a design by Gloria Caranica entitled Rocking Beauty (1965), now in the public domain. A quintessential example of mid-century design, we believe it deserves to be brought back to the marketplace.
To which I say, "Huh??"
Let's overlook the odd logic of citing a 15-year-later design as inspiration. Instead, let's applaud the generosity of this heretofore underappreciated design talent who so graciously and conveniently released her design into the public domain. I would love to see what other designs Ms. Caranica has produced, but it seems that the only mention of her on Google is on the DWR catalog. It sounds a little J. Peterman to me.
Still, hats off to DWR, who has successfully leveraged its vast distribution and marketing infrastructure and who has deftly deployed its intellectual property counsel to bring an instant "classic" design within reach of shoppers across the country wholly unencumbered by any licensing requirements and at the attractive price of $220, plus shipping.
[update: interesting, the ebay model didn't sell. guess that original finish is worth a lot.]