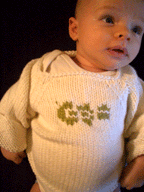 On Collision Detection, Clive tells the story of a sweater his friend knitted for his newborn son. As they were discussing what design to put on it, he remembered "Game of Life," an early 80's computer game in which pixellated images would evolve and transform in some algorithmic/random/no idea way.
To be honest, I have NO idea what he's talking about, but I DO understand it when he shows the actual pattern, a single iterative transformation of his son's initials, "G E T."
Which gets me thinking: since sweaters are basically made of a grid of stitches anyway, you could theoretically transfer any pixel design, from Mario Brothers to the icons on your computer desktop, into a sweater pattern. The tricky part is befriending some nerdy master knitters and ingratiating them with talk of your impending arrival--and your lifelong desire for him to have some elaborate, handmade, computer graphics-inspired clothing. Get cracking.
A baby sweater generated by Conway's "Game of Life"! [collisiondetection.net via makezine]