If your kid is born pretty much by the book, and you're in a hospital in the US, chances are he's going to spend most of his time in one of these: a sweet, sweet molded plexiglass bassinet that rides atop a gorgeous stainless steel cart of some kind.
If you have a thing for industrial design, and your kitchen is already restaurant-grade stainless steel tables and counters, and you've struggled mightily to keep the cutey cute, tole-painted nursery furniture out of your house, chances are you will be wanting one of these bad boys for yourself, er, I mean, for the kid.
If the first time you set eyes on them, though, is when your own kid rides one into the recovery room, chances are it's too late for you to be dropping $900 and up on a bassinet that probably has a several weeks lead time anyway, even if that plexiglass tub would look great filled with ice and champagne and what not as soon as the kid outgrows it.
And if you've just decided to start a blog about such foolish pipe dream-inspiring gear, chances are you'll come home with the mfr and model info scribbled on a scrap of paper. Then you'll lose it because, hello, you've got a newborn kid to take care of. Then almost two years later, you'll ask a friend who just started his rotation in the pediatrics unit to write it down for you.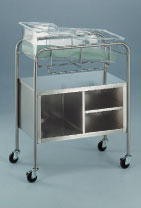 And so here we are. At Georgetown anyway, the cart itself is a Coleman Bassinet by Blickman Health Industries. It is available with shelves, an open cabinet, or a drawer, and it ranges up to $1,200. With two cabinets, it's $1,283. Naturally, the basket is sold separately. From what I can gather, the bassinet basket is $125. At G'town, it's called the Caliber Infanette Basket, and it's manufactured by Allegiance. But I can find precious little information about this version online.
Many people will feel this is an exorbitant amount of money to spend on a bassinet for use in a home. Many people will be right. Many people will not buy this for their child. Many people will be applauded for their common sense. But a very few people, probably loft-dwellers, will find this suits their needs perfectly.
And if a few of them don't want to shell out $1,500 for the bassinet, they will wisely check for used medical supply dealers, who will sell them this indestructible gear, broken in, at a fair discount. A very few, probably design snobs beyond even my understanding, will search for weeks for just the right industrial/hospital-grade bassinet.
Why will they do this, you ask? Because they will have seen the picture below, and they will have the beautiful steel curves of this incredible piece of Marcel Breuer-inspired sculpture--which also happens to be an heirloom bassinet for some lucky child--burned into their brains, and the standard Blickman curves will suddenly seem incomplete. Also, they'll see that these bad boys sold in lots of two for $40 apiece at a government liquidation auction in Columbus last fall, and damned if they're gonna miss the next one.
Blickman Bassinets: "Our Reputation is Stainless." [blickman.com]
Blickman Coleman stainless steel bassinet, $1,232 [alimed.com]
Blickman Bassinet, $900 [medharvest.com]
INFANETTE NURSERY BASSINET W- WHEELS- AMERICAN HOSPITAL, lot of 2. Closing bid: $40 each. [govliquidation.com[