<!form method="get" action="http://dt-go.com/cgi-bin/mt/mt-search.cgi"> <!input type="hidden" name="IncludeBlogs" value="3" /> <!input type="hidden" name="Template" value="daddy" /> <!input id="search" name="search" style="width: 270px; height: 15px;" /> <!input type="image" src="http://daddytypes.com/search.gif" height="18" width="159" border="0"> <!/form><!br />
A. Crewcuts - J. Crew For Kids
Asked and answered, at least for people with 2-year-olds and a penchant for preppy clones.
A couple of months back, DT reader Christy sent in a heads up on J. Crew's new range of clothing for kids ages 2-8. It was to be called Crewcuts, but it wasn't anywhere to be seen. Well, it's there now. Crewcuts is in stores, and it's available online, and it looks like a near-perfect translation of J. Crew adult clothing's style and quality into pint-sizes.
Now, I've got no problem if you've got a problem with J. Crew; I do, too, and I've never actually shopped there myself. [I remember visiting one of the company's first retail stores in South St. Seaport--back in the day, it was once just a mockably ubiquitous catalog, like Tweeds, remember all the different shades of heather?--and cracking up because you couldn't tell the customers from the employees. And remember those models? They were as cracked out as the folks in the Newport ads once.]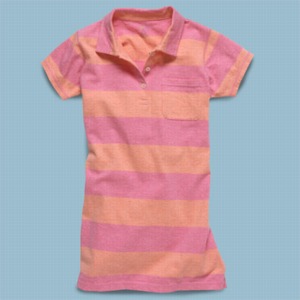 But J. Crew's stuck it out, and they've earned a grudging degree of respect for never really veering off the preppy, good taste/decent quality/staple path the way Gap and Banana Republic have. And considering how bad the status quo is outside of a few rareified/hardcore boutiques, J. Crew's foray into kids clothing looks like a breath of fresh air.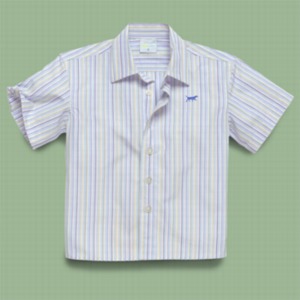 For girls, there are polo shirt dresses, and a tennis dress. And straight-cut Liberty print cotton shifts. And a bunch of totally normal clothing. For a change. For boys, it's a little narrower; a lot of striped polos and oxford/collared shirts are nice-looking, but they also look conspicuously like the grown up versions. Teach him some PowerPoint, and your Crewcut-clad son will be ready for a life in a cube farm.
Suddenly I'm really depressed. Unobjectionably dressed on the outside, and a hollowed-out soulless shell on the inside. Does anyone know who called this meeting?
J Crew Crewcuts are not super-cheap, $22-150 or so at jcrew.com [jcrew.com]
For example, this "hopscotch dress" is $36, and this "favorite shirt" is $34.50.
Previously: Q., Holy Moley, where are all the decent kids clothes at?
posted May 2, 2006 6:24 PM | add to del.icio.us | digg this
<!something is wrong with my adserver, so until I fix it, no ads>