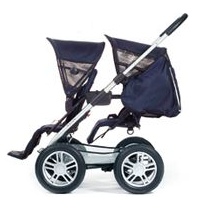 I get emails from time to time asking why there isn't more info on DT about Mutsy strollers. After all, the emails go, Mutsy is Dutch, like Bugaboo. And they make fine-looking, rugged all-terrain strollers like Bugaboo. And they're flexible and convertible from bassinet to forward- or rear-facing seat modes like Bugaboo. So how much is Bugaboo paying you to keep quiet about this domestic competition, eh?
Well, for the record, Lord knows I try, but Bugaboo doesn't pay me anything. I waited to post anything until I could check out the Mutsy Urban Rider in person, and I posted some first impressions then. Basically, it seemed fine, but too wide and big, several inches wider than the Cameleon, which was itself bigger than the Frog.
That said, there are things like the independent turning rear axle, the luggage cart mode, and the totally viable dual seat option that are pretty much unique in the single stroller-rollin' world.
But the real reason I didn't post much about it only became clear to me a few minutes ago. I didn't realize it, but deep down, I was waiting to see if Crown Prince Haakon of Norway was ever going to turn up driving a Mutsy across the beaches of Mallorca.
And so it is that, by Royal decree of His Royal Highness Crown Prince Haakon Magnus of Norway, this week shall be known as Mutsy Week on Daddy Types. And if there be any among ye who have a firsthand experience with the Mutsy, let him hereby proclaim it in the comments or via email.
And if ye were to share your comparison shopping processes, or photos of your own little princes in their Mutsys, we would surely be amused.
Parent Haakon:
Jornada playera de Haakon, Mette Marit y Rosario Nadal [ultimohora.es via cbb, who's got a million of 'em]
Mutsy Urban Rider [mutsy.nl]