Who can tell me the name of that tiny workshop/store on the south side of Prinsengracht, located at about 7:30-8 o'clock, I think, which makes those awesome Swiss canvas bags? I think it's called something like "Swiss Canvas Bags."
Anyway, they're even plainer and more rugged than LL Bean canvas tote bags, and while I didn't remember them having any diaper bags, it seemed like they had a lot of potential.
Thanks...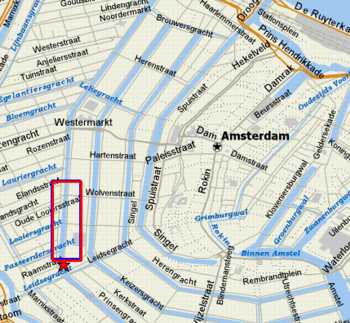 Note: it's in the rectangular area somewhere, I think; the star is Frozen Fountain, which is at Prinsengracht 629.
udpate from k: It's called Switzer All Canvas Products. They're at Prinsengracht 158. Good stuff. Thanks.