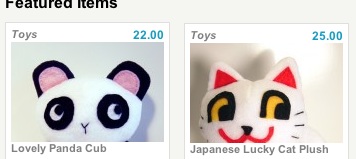 While poking around through etsy, I checked in on Tsukiyono, the Indiana artist who makes Japanese anime-inspired gifts and toys, and who made the awesome Bunny Foo Foo plush I bought for the kid for Christmas. [Dutch had pointed Tsukiyono's work out on his "Have Yourself an Indie-(&*#in' Christmas" post.]
Tsukiyono's workmanship is great, and she makes a point of sewing, not gluing things together, and of using really nice, soft, strong material. The kid's pretty easy on toys, but Foo Foo's seen a bit of action, and he's holding up fine.
Anyway, at the moment, she's offering a couple of very cool-looking toys: a little panda and a Japanese maneki neko, a waving cat that's a traditional sign of good luck at New Year's. There's a store near us in DC that always has a dozen or so solar-powered nekos waving away, and every time we go by it, the kid has to go over and wave back at them. "Hello, neko! This green neko's sleeping."
I've gotta go to bed; if I stay up any longer, I'll end up buying the things myself.
Maneki Neko plush cat doll and Baby Panda plush doll, $25 each, by Tsukiyono [etsy.com]
Previously: Dutch's indie Christmas manifesto; the kid's handmade Christmas loot, including Bunny Foo Foo