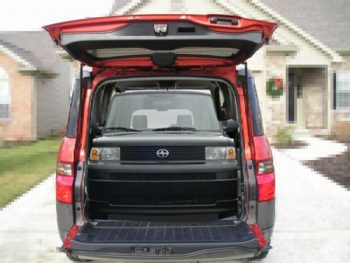 When Forbes put two box-shaped cars--the Scion xB and the Honda Element--up against each other last year [1/05, so I'm slow], the impassioned replies lit up the message boards of the respective owners clubs.
Reading the preaching that went on within each choir, the basic points were always the same: Element=SUV, Scion=tiny wagon. AWD vs. FWD. Mileage differential. Several thousand $$$ price differential. Element=solid, Scion=tin can [see previous point]. The [Element/Scion] is fugly, which is why I bought the [Scion/Element]. About the only thing the two sides did agree on was that, except for the boxy thing, the cars don't really compare all that cleanly.
A larger % of Element buyers appear to have checked out the xB than vice versa, while the xB owners were more annoyed/tired of the whole comparison. But the funniest comments were Scion owners talking about the Element's rubber floor:
Chewy7719: I've never felt the need to spray the interior of my car with a hose
djc_watt: If I threw up, I would sure hope it'd be in an Element... I thought this discussion ended over a year ago.
Showroom Showdown: Honda Element vs Scion xB [forbes.com]
ScionLife.com: xb vs element [scionlife.com]
element vs scion xb - forbes [elementownersclub.com, as is the image]