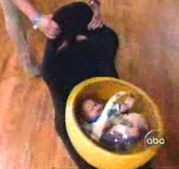 So Make Magazine's blog has another recap of ABC's American Inventor series. The episode this week featured a dad who invented an egg-shaped car seat that allows the baby to rotate inside it in the event of an accident.
Not clear how this helps, and I guess the car seat it actually more teacup-shaped, like a baby-sized ride at Disneyland. [Hey, it IS ABC.]
It doesn't rotate, but the massive Bebeconfort Creatis car seat IS very egg-shaped. In fact, their whole concept is eggs in a nest [which doesn't seem all that reassuring to me, maybe it works in French?]
And of course, the Orbit Infant System is kind of egg-shaped, too, and the base rotates into place for easy lock-and-loading from any angle. But without seeing the inventor's car seat in action, it sounds to me that side impact protection is the issue.
One other feature of the Orbit that comes to mind is especially important for the rear-facing phase. From what I took away from my talk with one of the Orbit engineers, US safety requirements don't even include anything about car seats staying put and not flopping back toward the rear seatback, which is just what you'd expect them to do in a front-end accident, right?
The Orbit's car seat base actually has structure to hold the car seat on the seat. It made me wonder about our base-free Maxi-Cosi Cabrio, but then, it appears the EU doesn't have requirements like that, either.

ABC's American Inventor, Episode 4 Recap [makezine via boingboing]
See the Bebeconfort Creatis on their flash-soaked site [bebeconfort.com]
It's not the kind of thing you want to rush, true, but where is that Orbit Infant System? I'm looking forward to it. [orbitbaby.com, babygeared's taking pre-orders for May deliveries]