Time was, if a man wanted a Honda Element in just one color, he had to find a dealer who was offering to paint the standard black composite body panels for him, or he'd have to wing it and do it himself. Either way, the hit was at least $1500 (the lowest dealer price I saw in 2003), and could just as easily climb to $2-3,000. Even then, reports Element-driving dad Matt Haughey, there were plenty of cases where paint would chip or crack on the composite panels (which were designed, after all, to be more impact aborbent.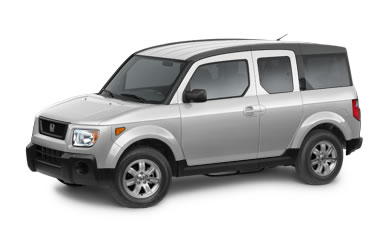 Well, now your wish for an Element with a factory-standard, single body color paint job are over. For the 2006 model year Honda added a new trim level, the EX-P--the "P" must stand for "Paint"--which features painted body panels and body-colored door handles. The effect is pretty eye-catching, but only for a minute; I found out about the EX-P only when I saw a few on the street and had to do a doubletake to see why they looked different. Now, the longer I look at them, they seem a little tamed, like putting a sweater on a guy with a tattoo. Which isn't all bad. And all this for $500 and it's under warranty [I'm guessing.]
The only problem? as Matt points out, and I have to agree:
the new colors this year are terrible. The green is awful and I'm a huge fan of green cars. Same with the orange, they tweaked the previous kickass orange into an ugly hue. The blue is ok, but I'd probably go with a black one. They should have made the painted elements in previous year colors. The green and oranges they had were already pretty nice.
I never thought I could miss Sunset Orange Pearl until it was gone. I want to see the red--which looks different, and too dark, on the website--but otherwise it's silver or black, which is like putting a cardigan on a guy with a tattoo. And changing into some sneakers for inside the house.
Of course, the reason I don't drive an Element right now is because I thought the 4-cylinder engine was too slow, and I was sure they'd add the Passport 6-cylinder soon enough. I'm still waiting, and Matt says it's actually pretty "zippy." But he points out another, kid-specific problem that you'll want to test yourself before pulling the trigger:
the car is pretty loud with road noise inside due to the hard surfaces and lightweight body, and now that my wife sits in the backseat with the baby, I can barely carry on a conversation with her on freeways.
Check out the 2006 Honda Element--and they're oh-so-quirky commercials, too!
[honda.com]