Go ahead and call me a jerk; I'll agree with you later (I already do, some) but if it takes being somewhat of an idiot to maintain my sense of humor and to be able to continue to acknowledge other adults as adults, then so be it.
We were at the playground this morning, the toy stroller playground on the west side. Even though we didn't take the Mini-boo--"Santa still fixing the wheel," the kid says, as I wince--we made sure to take the kid's bucket and some shovels. [Even though you're probably the only one who'll know, if you purposely don't bring something to play with, you're not "sharing"; you're "freeloading."]
Of course, the first thing in the gate, the kid literally dropped her bucket and chased after some stroller. Then another. Then another. She finally made her way to the sandbox for like 5 minutes, then left all her gear to go snag some strollers.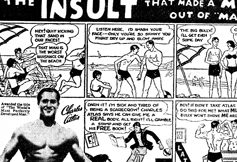 When we came back, there was a mother riding herd on five or so 1-2yo kids, two her own, who were all clumped together digging sand. Some little boy had our bucket, and another girl had all our tools, but there were unused toys lying about, so when she lunged for them, I told the kid that she can use something else while these other kids played with her stuff.
The mom, clearly a park veteran, said, "I think I have another bucket," and went to dig it out of her stroller. I did the whole, "say thank you," thing, and then thanked her and pointed out that our toys were already in the mix. after 5-10 min. of shuffling and a bit of that play-by-play narration and hovering thing that parents do, the kid ended up with no toys, and so she lunged for one of three toys in the woman's 18-mo or so daughter's lap. I had to intervene, of course, and explain that we don't just take things; we share, and maybe you can ask her if you can use it, please?
Seeing this, the mother entered into negotiation for a rake or whatever; meanwhile, the kid had wandered off a couple of feet and found a bucket on her own. When she came back over to the cluster, the mother goes, "Oh."
And I said, "Oh, she's fine, thanks." and then gave the rake back to the kid and in that singsongy voice, said "Thank you, she found something. Here, you can hoard this if you want to."
Wait a beat.
The mother says for me but not to me, "'Hoard' is a pretty agressive word to use on the playground."
Slightly stunned, and of course, feeling bad now for using "hoard" with someone else's kid, I turn to her and say, "Sorry, I was just making a joke." Did the kid even know what "hoard" meant? I had bet on "no."
Again, to no one, including me, as she picked some bandaid out of the sand, the mom goes, "I'm trying to teach the children to share."
"I--" End of non-discussion. She was not talking to me, and wasn't responding to me, so instead of pursuing it, and pointing out that I'd been doing the same thing right next to her for the last ten minutes, even going so far--did she notice--as letting other kids keep playing with my kid's stuff rather than just let her snatch them away, I just dropped it.
The narrative and kidcoaching kept on for a few more minutes, but I'd had enough. I coaxed our stuff out of some kid's hands, told the kid to say thank you for the bucket [all she could say was "leetle while longer?" over and over, of course] and headed out, pissed.
It's a weird way of operating, what parents do. We're constantly aware of others and what they're doing, and yet we usually focus our attention and our language on our own kid, assuming others will pick up what they need. Especially among strangers, parents are like a bunch of babies parallel playing: we're occupying the same space, but not really interacting, and not together. Except, of course, that we're not toddlers. And acknowledging the shared, odd experience of toggling between the adult and baby worldviews seems natural and necessary.
The other day, on another playground, there were three dads and three kids, all about the same age. The other two vaguely knew each other, but we were all still just watching our own kids alone. When the kids all started copying each other by wanting to go down this big slide together, I said, "Very good, honey, follow the crowd. That's an important lesson." The other dads behind me cracked up, and I turned and said, "teach'em while they're young." Maybe if I hadn't had this encounter a couple of days earlier, I wouldn't have been so thin-skinned this morning. Of course, if I hadn't gotten a laugh from a stranger then, maybe I wouldn't have been encouraged to keep blabbing, either.