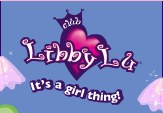 From the first time I saw it in Tysons Corner Mall--the cheap one, not Tysons II across the street; but hey, what can you do? You go where the Ranch One Chicken is--I swore my daughter will never set foot in Club Libby Lu. It's a skanky, trampy little makeover store that turns tiny girls [they say 5-12, but there are 3yo's in the story] into glittery, prancing Paris Hilton wannabes. It stamps otherwise normal suburban girls with presumably responsible, intelligent parents with a rural middle school drill team instructor's vision of glamour, one birthday party at a time.
My usual approach to this kind of white trash cultural blight is to ignore it--or stare in disbelief at it on ESPN2 in the middle of the night. Which is why I haven't posted a remorseless takedown of it these last two years.
But my back is killing me today; the Robutussin's making the kid buzz instead of drowse, my wife's gone to London for a conference--and the Washington Post just did a remarkably even-handed-yet-still-damning [how can it not be?] article on this hot Hollywood-inspired phenomenon, so how could I resist? Especially when the CEO of Club Libby Lu headfaked the reporter and backed out of an interview in a predictably spineless way. She knows what it is, and she's still selling it.
How I'll go about maintaining this ban on Club Libby Lu, et al, especially in the crucial years to come, is still TBD. I mean, without saying anything to her one way or the other, the kid's already declared purple to be her favorite color. I think the main thing will be to stay out of malls, which I'm happy to do. You dads out there with the lawns and the driveways...I don't know what to tell you. Good luck.
Glamour Babes [washingtonpost]