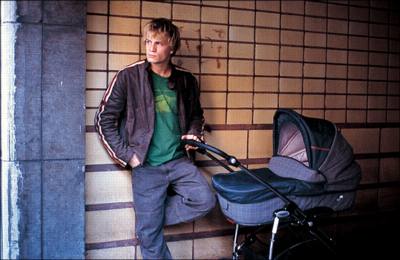 L'Enfant won the Palme' d'Or last year at the Cannes Film Festival. It's by two brothers, Jean-Pierre and Luc Dardenne, whose film Rosetta also won the Palme d'Or in 1999. Their films are quiet, unflinching, and intense moral explorations which are shot in a gritty, naturalistic, almost documentary style. [The brothers started out as documentary makers]. Along with Agnes Varda, these guys were a major influence on me wanting to become a filmmaker.
L'Enfant is the story of a young street thug named Bruno (played by Ją©rą©mie Renier, who was also in the Dardennes' film Le Fils) who becomes a dad when his even younger girlfriend Sonia gives birth to a baby, Jimmy. There's a lot of awkwardness and detachment; you get the sense that these folks are not quite ready for parenthood, and sometimes are not grasping the concept much at all.
I wonder if there's any symbolism in Bruno driving Jimmy around in a BebeConfort model called the Trophy? How much do you think BebeConfort paid for product placement? Because except for that part about Bruno impulsively selling Jimmy on the black market, it's pretty good exposure.
L'Enfant opens today in NYC and LA. It's distributed by Sony Classics. Here's the NYT review.
Check out the BebeConfort line, the #1 stroller among child-selling Belgian hoods. [they should be arrested for that site's flash navigation.]