<!form method="get" action="http://dt-go.com/cgi-bin/mt/mt-search.cgi"> <!input type="hidden" name="IncludeBlogs" value="3" /> <!input type="hidden" name="Template" value="daddy" /> <!input id="search" name="search" style="width: 270px; height: 15px;" /> <!input type="image" src="http://daddytypes.com/search.gif" height="18" width="159" border="0"> <!/form><!br />
March 21, 2006
For The Geek-Conceptualist Nursery: The ASCII Carpet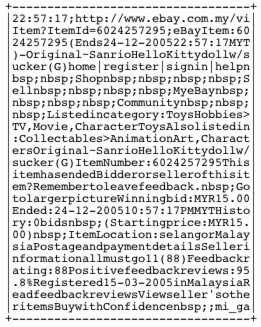 Here's how I understand the process: When you visit the website, it triggers a Google search of some kind. The results are scrubbed and formatted and output as pure ASCII text, complete with a timestamp of your visit.
You can then order a print of your unique ASCII composition, the price of which varies by output medium and volume. For example, a single print on A4 paper costs 4 euros. And a 200x250cm custom-woven wool carpet is 1,999 euros.
Souds pretty straightforward to me.
http://triple-double-u.com/carpet/?s [via wmmna]
posted March 21, 2006 1:57 PM | add to del.icio.us | digg this
<!something is wrong with my adserver, so until I fix it, no ads>