<!form method="get" action="http://dt-go.com/cgi-bin/mt/mt-search.cgi"> <!input type="hidden" name="IncludeBlogs" value="3" /> <!input type="hidden" name="Template" value="daddy" /> <!input id="search" name="search" style="width: 270px; height: 15px;" /> <!input type="image" src="http://daddytypes.com/search.gif" height="18" width="159" border="0"> <!/form><!br />
March 16, 2006
Babywear B-- Wow, All I Can Say Is Wow--Babywear Bouquets From The Flower Stork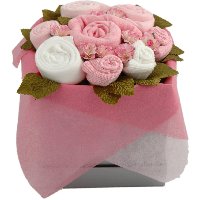 After witnessing the sheer and utter awesomeness that is The Flower Stork's selection of Babywear Bouquets--socks, bodysuits, pj's, bibs, and the all-important muslin square [?], all artfully arranged to look like flowers, and reminiscent, perhaps, of the rose you made from a bar napkin that helped you bag the babe in the first place, hmm?--I know one thing for sure: I'll never buy another diaper cake again.
The Flower Stork Babywear Bouquets range from £29.50-59.90, "(including VAT)" [theflowerstork.com via jan from kidsrepublic.nl]
Previously: Diaper Cake??
posted March 16, 2006 12:35 PM | add to del.icio.us | digg this
<!something is wrong with my adserver, so until I fix it, no ads>