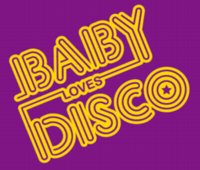 Not that I've been, mind you, but an actual club where you and your kid can shake your booty to 70's and 80's disco classics sounds like a winner. Baby Loves Disco was started in Philadelphia [aka the sixth borough!] by a once-clubhopping mom who wanted to share the joy of Gloria Gaynor with her son. The gig's a hit, and has since expanded to New York and has spawned a touring edition, too.
With both a DJ and a changing station, disco balls and a chill-out room full of tents, toys. and organic snacks, Baby Loves Disco sounds like a alternative for kids, parents, and families to hang out together with other families where the parents used to go out clubbing, once, too. Wow, suddenly it sounds really depressing. Hopefully, you'll be jumping around so much, you'll be able to drown out the anguished existential cries in your soul. Hey, just like in the old days!
Baby Loves Disco gigs are $10 a head (only the softest, non-walking heads get in free). Check the calendar; there's a Saturday afternoon gig coming soon to a club near you*. [babylovesdisco.com via dorkmag]
* offer valid only in Manhattan, B'burg, The Slope, Boulder, Chicago, and Philly.