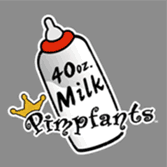 So a skater dad of three in Portland, Jared, wants to help his shorties--and yours--represent, and he launches Pimpfants, a collection of righteous-looking streetwear that doesn't have ducks or bears on it, and the big Corporate Types at AOL/Blogging Baby get all in his biznazz about laying the whole Mini-me trip on these sweet innocent children? Because dressing your kid like a tiny adult is somehow fine if you live on Madison Avenue, but not if you live on Avenue B?
Frankly, anyone who can navigate the Gerber trademark minefield while keeping his edge [he calls them "1 Z's," dayum, that's good] deserves a chance to show his goods. Stop keepin' a brother down, yo.

Pimpfants: It's a Baby Thang [pimpfants via bloggingbaby]
Jared's MySpace page [myspace.com/its_a_pimp_thang]
Previous streetworthy gear: Little Rulers, Nippaz With Attitude, etc.