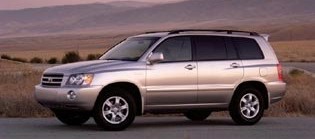 For several months now, I've been mulling over the idea of getting dads and dads-to-be to review cars and give accounts of their car-buying-or-not-buying experiences. It turns out DT reader Kaz has been eyeing the Toyota Highlander Hybrid to replace their Subaru Forester for almost as long. So when Kaz wondered about the compatibility of leather interiors and milk-and-crayon-wielding children, I asked if he'd share his Dad's Eye View of the car.
And if "you" means "a guy with a baby contemplating a car that will define him for the rest of his life," his review starts off by revealing exactly the short hairs the car salesman has you by.
It was a pre-emptive strike. At least, that'Äôs one of the ways I justified it. It was also: the same or slightly better gas mileage but more room, safer, good for the environment. But it was a pre-emptive strike to avoid ending up with a mini-van. We haven'Äôt talked about having a second (or third, etc) child, and we promised we wouldn'Äôt until the first one turned two. But we make several trips 'Äúback home'Äù (about 1k miles round-trip) a year, and there were times, especially around Christmas, when the old car (Subaru Forester) was just too jam-packed full of stuff. Even with a car carrier up top.
Dad stuff:
Washable crayon washed off the leather okay.

Second-row seats slide back so you can delay shoes on the backs of the seats for a few more months.

Much more room than a Forester. I'Äôm not sure about Bugaboo room, but if someone wants to buy me one, I'Äôll let them know.

Vents for cooling hybrid batteries are under the second-row seats. We usually put the kid'Äôs diaper bag (and whatever else we can cram there) in the 'Äúfoot area'Äù under the seat with the car seat. Now we have to be careful not to block the vents.

Privacy glass is nice, but still doesn'Äôt prevent her from trying to look at the sun. If anything, it may encourage it by making the sun less harsh to look at.

Second-row cupholders. Two on door 'Äì okay for sippy cups, not okay for soda cans or juice/soy boxes with some still in it. Slamming the door shut causes soda/juice/soy to go all over the door. These things belong in the cup holders in the fold-down center arm-rest. Unfortunately, this is within 'Äúgrabbing range'Äù.

Oh yeah, latch underneath and anchors on the backs of the second-row seats.

Bigger size means more of a reach for the glove box to get napkins. However, there is a small storage area on the rear of the arm rest for back-seat napkin storage.


Guy stuff:
The hybrid actually has more HP (268) than the non-HP Highlander. Really nice pick-up and passing ability. Some noise with hard acceleration, but nothing like the Subaru.

Nav system is always fun (even though it adds extra work to things like changing the fan settings), but for whatever reason, they did not include BlueTooth in the Highlander. My guess is they want you to spend the extra $10k to upgrade to the Lexus.

Heated leather sets rock.

The auto-dimming rear-view mirror is nice, however, it does reduce rear clarity of visibility a bit, making it slightly more difficult to identify cars with lights on top. A good radar detector can help alleviate these problems a bit.

There are two lighters/plugs up front. However, one is down under the center console in a little hollow they call a storage area. It is fine, but to plug/unplug while moving is difficult. It also stretched the phone charger or radar detector cord quite a bit.

6-CD in-dash, 6 speaker system. Not great, but better than the standard stereo system.

Power moon roof. Also very cool. Probably even cooler once the weather gets warmer.


Overall, I am very happy with it so far. Most of the time I am childless and just commuting to work, but it makes a Ôø‡ hr each way trip much more tolerable. The kid seems to enjoy it. She quickly adapted from seeing the Forester and saying 'ÄúDaddy'Äôs!'Äù to the Highlander. She also likes to see out the moon roof. We elected not to get the 'Äúrear seat entertainment system'Äù because my daughter is at the age where, if she watches a DVD on there once, she will cry for it every time she gets in the car.