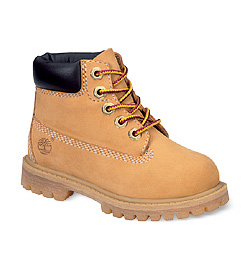 We saw some kid-sized Doc Martens the other day, and it brought back all kinds of painful memories of limping home at the end of the day from school, suffering for what seemed like forever for the boots to get broken in. Has anyone's kid ever managed to wear these things? How'd it go?
If Docs are an unlikely footwear choice for kids, Timberlands are everywhere. I always see toddlers, even babies, sporting classic waterproof boots around town, just like their dads'. If your kid's not actually walking yet, and these are pure fashion shoes, that's one thing. But while kids are still learning to stand and walk, you're supposed to lay off the stiff-soled shoes; they need to be able to feel and react to the surfaces under them, and lug soles don't let that happen.
But if your kid's walking alright, maybe it's just a matter of him--or her--needing a day or two to get used to having his ankles immobilized. We got the kid some little black Kenneth Cole boots that zip up the side, and for the first couple ol wears, she walked like a cat with tape on its paws. Now, though, she puts them on by herself. You'll know when it's OK to load up your Envoy with some little 'kickers.
Toddler Waterproof 6in Boot Wheat Nubuck, $50 [timberland.com]
The kid's Kenneth Coles don't have this freaky heart on them [zappos.com]