+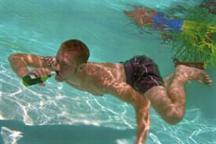 ?
A question from Shawn, an unseasonably pale new dad:
My wife and I travel tropical at least once a year. We skipped last year during my wife's pregnancy. We just had our first child in January, and we're considering a trip to Beaches Negril in late October 2006. Is it too soon to travel internationally with an infant?

Have any of you Daddy Types out there been to Beaches Negril? We've been to Jamaica a couple of
times and been to a few of the Sandals Resorts which are, of course, related to the Beaches Resorts, so we think we know what we're getting ourselves into. Are we totally nuts to try a trip like this a 9.5 month old?
While we've been traveling extensively with the kid since she was just a few months old, our beach trips have been a) domestic and b) to family cottages, so I've got no idea about what traveling tropical with a kid is like [but I know I like the sound of it. I travel tropical. We travel tropical.] Anyway, should Shawn just pack it in and head for the Tahitian Village at Disneyworld, or is there hope for them in Jamaica?