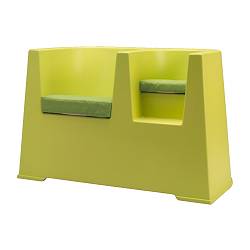 MoMA design curator Paola Antonelli is not a fan of most kid-related design, but she is a fan of the ever-affordable Ikea [which she pronounces, ee-KAY-ah, as we all should.] When we spoke about design for kids and babies recently, only one product jogged her memory and cleared her inner design hurdle: a two-seated armchair from Ikea for an adult and a child, where the two sitters' faces--not their butts--would be on the same level.
Though she didn't know the name of the chair, she knew the design was only a couple of years old, and she'd seen it very recently in stores. With some help from Ikea's press office, I tracked down the chair, Trivas, which is part of the company's innovative annual PS series. Designer Thomas Eriksson is behind both the series and the chair.
While it's gone out of the line for North America, it's still listed on the website for the UK, at least. The giant lime green plastic shell would be quite a strong presence in almost any room. Antonelli's right; it sure is sweet. But while it may have the staying power with design critics, I wonder how long its extremely use-specific design would work around the Daddy Types house. Or maybe I'm just telling myself that because it'd cost a fortune to ship to the States, and it won't fit in my checked luggage.
IKEA PS TRIVAS Two-seat armchair, £45.00, if available [ikea.com]