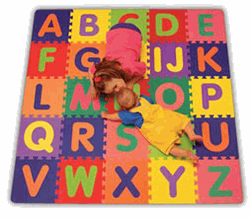 If you saw the hangdog photo of me in the NY Times today, then you also saw the Alphamat foam floor tiles that we put in the hallway outside the kid's room. Yes, it's a bit of primary color-creep, something we'd been pretty disciplined about, but we thought it was an acceptable solution. It occurs to me that somewhere out there is a die-cut mat in exactly the opposite color combo as this one. And if I could find it, I could re-match the pieces into a less contrasting color scheme. You might want to shop in person for that, though.
The mat's designed to be laid out in a 5x5 square, but we put it into a kind of elongated "L" or truncated "U", I guess, to fit our space. It's not perfect of course, because the edge/corner pieces are set. [Other mats have separate edging.]
My dad got these for the kid for Christmas, and surfiing around now, I see we really lucked out on the typeface as well as the thickness. [I saw a pretty funnylooking serif font somewhere, but I can't find it now.] The Alphamat is 5/8" thick, which feels sturdy. Unless your floor's really smooth, I'd think hard before getting a 3/8" or so mat.
One regret: not buying these Anpan-Man hiragana floor tiles when we were in Japan. [each of the 50 phonetic characters is on an 15cm sq mat. Anpan-Man is an omnipresent TV cartoon character. "An" is bean paste, and "pan" is bread, so he's basically "Bean Paste Donut Man."] You can also get mats in Arabic and Hebrew.
Buy the Alphamat at Kidsstuff.com for $58, or in a two- or three-pack at allmats.com. The Team Products mats at Amazon are thinner and have a blockier typeface, but they're only $25. [07/06 update: Amazon's not currently stocking these, but Toys R Us is.]
[update: AJ at Thingamababy has trod this foam floormat ground, too, and found Ross to be a fine place to dress your floor for less. thanks for the reminder. ]
[update2: wow, someone mentioned how these things buff your hardwood floor to a deadly shine, and they're right. I just picked them up to clean, and the floor is like ice. Be careful.]