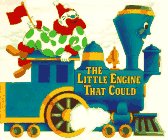 It was pretty obvious to me that the story had been shortened, but the artwork looked familiar enough, and the trademarked [seriously] phrasing was all there. But the more I read The Little Engine That Could in boardbook form, the more it bugged. The drawings were, in fact, copies/knock-offs of the original, and the story, well, there was barely any story at all. One train broke down, another came by, and they drove over the hill, no problem.
It wasn't until we headed to the library that I thought I'd see what we were missing. How about EVERYTHING? It turns out that not only is the original story far more developed, and suspenseful, and emotionally engaging, but the artwork [by George and Doris Hauman] is ten times better. The board book is a cheap, empty, poorly conceived shell by comparison. Clearly, the form factor has its indestructible advantages, but maybe it's just better to wait until you can handle the real thing?
Right in the middle of my indignation, the kid brought over Clifford, who I hate [thanks to inane boardbooks with no plot, character development, or well-executed artwork]. Surprise, the original turns out to be decent, and full of scenes that have been ripped off or poorly reworked into brand extensions designed to suck money out of unsuspecting parents' or giftgivers' wallets. Is this ever NOT the case? Because I'd like to know.
The Little Engine That Could: Original = Good, Boardbook = Bad
Clifford's Puppy Days: Original = Better, Boardbooks = Numbing