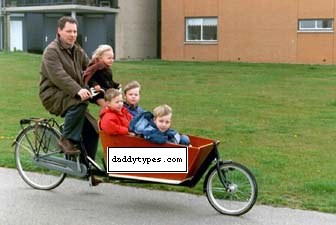 This one goes in the 'cars' category because, as DT reader and Dutch gearshark Jan points out, the Bakfiets has really made a name for itself in Holland as a car replacement. According to Jan, it can take up to two years to get a street parking permit in Amsterdam. Most three-wheeled cargo bikes were being driven by old people, and besides, they didn't fit through a normal door, so a guy named Maarten van Andel came up with a two-wheeler, and voila; Dutch car dealers have been losing sleep ever since.
The Bakfiets comes in long and shortbed versions, accommodates infant carriers [or "Maxi-Cosies" as they're called over there], comes with a rain/wind canopy, and has both an easy-steering low center of gravity and a very stable kickstand setup.
Anyway, not only do the Bakfiets folks have the balls to say "Now you can get rid of your car!" in their ads, they also have the balls to say the rig's for the whole family, including dads. It made me wonder what "bak" meant in Dutch; turns out it's a "shallow vat or tub used chiefly by brewers." Now what could be more manly [or Man Show-y, at least] than that? When I'm in Holland, I expect to see Dutch Pi Kapps pedalling Bakfiets full of ice and Amstel all over town.
[life-imitates-daddytypes correction: why carry beer in a Bakfiets, when you can use a bierfiets instead? thanks, karl. -ed.]
Bakfiets Cargo Bikes are EUR1395-1445 [bakfiets.nl via dt reader jan]