<!form method="get" action="http://dt-go.com/cgi-bin/mt/mt-search.cgi"> <!input type="hidden" name="IncludeBlogs" value="3" /> <!input type="hidden" name="Template" value="daddy" /> <!input id="search" name="search" style="width: 270px; height: 15px;" /> <!input type="image" src="http://daddytypes.com/search.gif" height="18" width="159" border="0"> <!/form><!br />
Why I Love And Hate The Maxi-Cosi Priori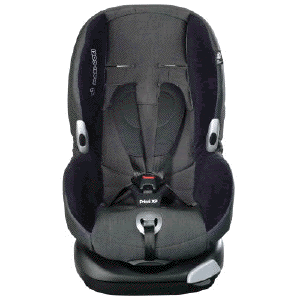 Except for the way the knobs stick out unnecessarily far on the sides and would often hit my leg, I totally loved the Maxi-Cosi Cabrio infant car seat. We went with it because it was the Bugaboo-compatible carseat in the EU (and we didn't like either of the US options). But it also looked good, worked very well, was light, had nice touches [the little compartment in the back, the brilliant disappearing canopy], and was rated to last longer than most infant seats in the US. The fact that it was technically illegal to use in the US didn't faze us at all; the EU standards were plenty stringent for my conscience, thanks.
Anyway, all this meant that we were destined to stick with Maxi-Cosi when we needed to get a bigger carseat, and we did. We got a Priori XP, and we've had it for almost 7-8 months, but I rarely talk about it, except in passing. That's partly because buying and shipping it was a total fiasco that took three months; part of it is the ambivalence I feel toward the thing; there are definitely some good points and some huge failings, and even though I can't really think of many car seats I'd trade it for, I don't know that I'd buy it again, given the occasion.
The ebay.de purchase fiasco
First off, I should have bought the Priori when we were in Holland at the end of last February and brought it home on the plane. Time and money-wise, this is the smartest thing to do, ever. You get free shipping, an instant VAT refund at the airport, and instant gratification. But I was cocky, and picky about the color/fabric, so I figured we'd just wait and get exactly the one we wanted online when we got back. Big mistake #1.
Second mistake: not buying from someplace like Babycare.nl, who didn't have the fabric we wanted in stock, and whose shipping seemed a little pricey. In hindsight, they would've been the best option; by the time I bought and waited--and waited and waited--for my ebay.de purchase to arrive, Babycare had plenty of inventory, and the cost difference would have been pretty minor.
Buying on ebay.de was a nightmare, where the very experienced [i.e., high-volume, high feedback] seller knew nothing about shipping to the US. Or accepting payment from anything besides pfennigs or whatever they use on ebay.de. Then because of her ineptitude, we waited for a month with constant emails back and forth about tracking numbers, VAT refunds, etc., all with conflicting information. Net net; I paid for DHL, she shipped via untrackable post, and she pocketed the difference and my VAT, total sandbag, like EUR70.
Why I Love The Priori
First off, it's a great-looking car seat, and it's strong. Solid. The production quality and finish is pretty superb. It should be, though, because it cost nearly $300. But it's a well-built piece of equipment, and it's extremely comfortable and beneficial-seeming for the kid. Is it 50-100% better than what you'd find on a US store shelf? In some ways, yes. In other ways, probably not. I know the fabric [Black Reflection, btw] looks, washes, and wears much better than the Canvas on our Cabrio, though. One thing's for sure, though: If you don't have to pay shipping and VAT, you'll feel a lot better about the Priori vis a vis whatever else you're considering.
Perhaps the greatest feature--the deciding factor, in fact--is the way the Priori reclines. There are a lot of reclining car seats on the market, but as far as I could find last year, the Priori was the only one that allowed you to tilt the seat back without taking it out and readjusting it. The Priori has a handle on the front edge of the seat, reachable with one hand from the driver's seat, that drops the seat back. We love that. The kid slept three straight hours on a recent drive between NYC and DC, enabling me to do the whole trip in a blindingly quick four hours.
Why I Hate The Priori
So many of the things we loved about the Cabrio, then, turned out not to continue to the Priori. But once you have a 20lb kid in a 20lb chair, I guess you shouldn't expect a lot of convenience/portability.
Solid European Engineering? The Priori weighs nearly as much as that other piece of S.E.E., our 80's-era Mercedes tank. It's almost not portable between the house and the car, so forget taking it anywhere else. When it never came from ebay.de, we ended up having to buy a stopgap, the cheapest Graco we could find. Well, we'd have to do that anyway, because you will not want to move this thing between cars, and even if you have sherpas traveling with you, you will NOT take it on a plane. It is A. Car. Seat.
The other huge drawback is something you see in later-model Mercedes: over-engineering for its own sake. You can argue that safety is most important, period, but I'm sorry, safety is the ante that every carseat maker has to cough up to play in the game. The Priori shows that Maxi-Cosi has some serious blindspots when it comes to user scenarios and user experience.
The one I'm thinking of: puking. The kid had a thing for hurling for a while; not sure why, but it often happened in the car. In the car seat. We'd gotten pretty good about stripping the Cabrio and washing the cover. The Priori is both harder to strip, and harder to clean. Some pieces like the shoulder strap pads can't be removed at all and can only be wiped down. But the real problem was the inability to get at all of the car seat's structure, nooks, and crannies. When the kid hurled a particularly rich mixture on the way to my mother-in-law's recently, puke got deep, deep, into parts of the Priori that, clearly, no Maxi-Cosi engineer ever expected a parent would go.
Turns out there are several completely inaccessible spots in both the seat and the base that function as catchbasins. After an hour with a roll or paper towels, Clorox wipes, and finally, Q-tips, I would still find an unending sloshing supply of goo. I ended up turning the hose on the thing, spraying every which angle I could, and shaking it upside down for another 40 minutes. In December. It felt like I was giving my TV a bath. All the while, I kept thinking that other car seats must be like this, too. But then I started looking around, and no, there are plenty of seats that can be wiped down easily, no hidden spots, and some can be stripped and hosed down without a care in the world. I don't hold out much hope for M-C's head office to be too responsive or to do anything about it, though; the sense I get from them is, actual users in the wild--as opposed to focus group subjects--are a dangerous species best avoided.
Anyway, now that I've written far too much about far too little, I think I'll stop. And I'm going to start taking a closer look at the Recaro car seats, which, in addition to being cool, are also already in the US. As for me, I'm out of the car seat market for good. For the moment.
Previous Maxi-Cosi love, etc. on daddytypes
posted January 24, 2006 1:44 PM | add to del.icio.us | digg this
<!something is wrong with my adserver, so until I fix it, no ads>