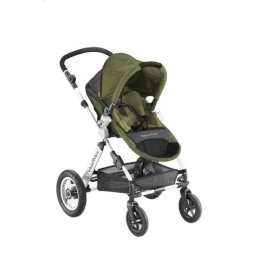 Yo, stop at Target, Bugaboo's overpriced!
Fisher-Price dropped a stroller and they Frogged it up nice.
Don't want the Dutch lawyers to get litigious.
Air-filled tires, aluminum frame, forward- or rear-facing seat, extra infant padding, big canopy with a parent window, only one color so far -- Army Green -- = surprisingly [if not crazy] delicious.
Girl acted like she's never seen a ten before.
It's all about the Hamiltons, baby.
Throw li'l Max in this rig, almost like Sealhenry. (-henry, -henry)
What, you think that basket lookin' not so pretty?
Don't be so tragic; you're only dropping two-fitty.
Fisher Price Infant-to-Toddler Stroller - Army Green, $249.99
[target.com via saccade and everyone who went to Target this weekend, thanks]
Previously: Seal Drives A Bugaboo!!!
Target Gets Approval Of Seal