<!form method="get" action="http://dt-go.com/cgi-bin/mt/mt-search.cgi"> <!input type="hidden" name="IncludeBlogs" value="3" /> <!input type="hidden" name="Template" value="daddy" /> <!input id="search" name="search" style="width: 270px; height: 15px;" /> <!input type="image" src="http://daddytypes.com/search.gif" height="18" width="159" border="0"> <!/form><!br />
Ooba Bassinet: Mid-Century Meets 21st Century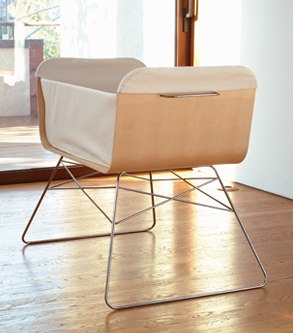 When I first saw the ooba bassinet in the newest issue of Dwell [where it's one of the few surprises in their modernist kids furniture roundup], the website was still just one big "coming soon!" page. Well, a few days later, there's a functioning site, lots of photos, and hints of a multi-piece ooba Nest Collection to come.
Judging from the bassinet, anyway, ooba is the baby furniture the Eameses should have done. The designers--all first-time parents, of course--created a contemporary, minimalist piece out of Eames' favorite materials--molded plywood and chromed steel. It comes with a walnut of maple veneer frame and brushed cotton interior, a mattress, pad, and two fitted sheets. [Additional sheets are still "coming soon".]
Bringing such a piece into a modernist classic-filled home can sometimes be as tricky as introducing the baby to the cat; it's safer to keep them in separate rooms. But the ooba looks like it'd play very well with others. Except for the Seimi outfit--which suddenly looks pretty sedate--the ooba's main design competitor is probably the Bugaboo, which can serve as a convenient bassinet for the first few months [and which might absorb a chunk of the bassinet budget anyway.]
No word yet on any retail or online distribution besides ooba's own site, so it'll be interesting to see how the firsthand accounts come back.
ooba bassinet from the nest collection, $500 at ooba.com [ooba.com]
posted January 7, 2006 9:17 PM | add to del.icio.us | digg this
<!something is wrong with my adserver, so until I fix it, no ads>