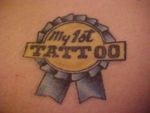 A lot of people get tattoos, and a lot of people have kids. And when someone who gets tattoos has a kid, it's not uncommon for him (or her) to commemorate the occasion with a baby-related tattoo.
I am not one of these people, but I have plenty of inked friends. If you have done it, or if you're thinking about it, what is the best way to approach the decision and the design?
"dad" is an obvious choice, so obvious, though, it's on a million baby t-shirts and rompers these days.

Basic data--names and dates--seems like an obvious option, too. [But then scalability and placement become a factor. David Beckham has his first kid's name inked across the top of his butt, for example. In the tattoo biz, that's known as a "tramp stamp," which may make the other little Beckhams relieved to not be added yet.]

Pictures or photo-based portraits make sense, too, except that they'll be out of date pdq. [although they'd still mark a point in time just fine].

Little handprints seem to be popular.

Then there's always a kid-related design of some kind, or a picture of, you know, Cookie Monster.

I ask because I'm actually interested and have been for a while--it's a subject that seemed particularly dad-related and under-covered anywhere else. That said, it was stumbling across this site of bad, lame, and stupid tattoos that finally got me to post about it. Like a kid, a tattoo is a lifetime commitment. The difference is, of course, that if you screw up as a parent, it's the kid that suffers; if you get a bad tattoo, it's all you, baby.

Some relevant examples: this very large tattoo of Maddox Jolie, which is on a calf that is not Brad Pitt's. An unfortunately unskilled interpretation of a photo of a stunned-looking infant. A decent enough rendition of Pedro Ramon which will be smothered by a chest rug in days. "My 1st Tattoo" is in the 'dork' gallery. And one for the ladies: while I can understand not wanting to do it too soon, it seems to me that getting a "baby on board" tattoo on your 8-mos pregnant belly is just a bit late. How about henna? Oh, and here's that Cookie Monster I was talking about, complete with "Daddy" and "1953-1984". I can imagine a very sad, personal, private, story behind this.

I guess what I'm really waiting to hear is that someone got a Bugaboo logo tattoo and is now receiving free strollers for life. Like that burrito stand did in San Francisco. Any voices of experience out there?

Lame/funny/bad tattoos for your enjoyment [porkdisco via themorningnews]