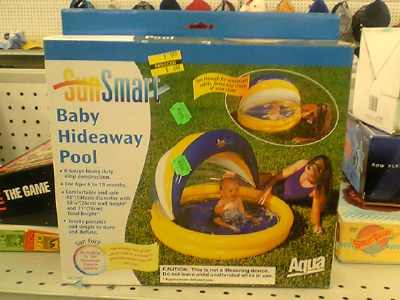 One of the odd pleasures of going to St. George, Utah is the D.I., Deseret Industries. It's a giant, Salvation Army-style thrift shop that's the denominationally correct repository of choice for all the stuff Mormons get rid of, and the shopping destination of choice for the renegade Mormon-esque polygamists who live a ways out of town.
Anyway, while on a weird t-shirt run, I spotted this SunSmart Baby Hideaway Pool, [fortunately] still in the box. SunSmart, WaterStupid, because it's an infant swimming pool with a half-shaded, half-clear sun canopy that covers the whole thing. A disclaimer or two about "always keep[ing] your child in your vision!" doesn't cancel out the foolishness of sealing your child in a watery bubbleful of drowning hazard.
Plus, it turns out there's only one spot to attach the canopy, and it's basically impossible to move or turn it when it's full, so you better position it right before you fill it.