...
Yes, all you suburbanites with your basement workshops and garages and such can chuckle silently to yourselves. Hell, laugh at the top of your lungs; no one'll hear you.
It turns out the banshee-like whine of a Dremel cutting through aluminum tubing in the kitchen not only wakes a kid up in the middle of the night--OK, 10 o'clock, but still--it freaks a kid out anytime.
The result: having a kid around turns out to be a serious impediment to making a toy stroller.
update: except for one axle, which is 1/4" steel, and is thus uncuttable using the Dremel bits I had with me, I got everything cut and fitted last night, just before we took off to the inlaws' for Christmas. It still needs to be glued and riveted, but the Mini-boo looks surprisingly good, which is a relief. After the jump: a quick list of what it entailed, plus a couple of photos:
I cut out the top end of the main wheel struts so that the basket nests in them [above], then I'll epoxy and pop rivet them in place.

I drilled out the holes at the bottom for the axle, a 1/4" threaded steel rod, the finished length of which is still tbd. A 1/2" aluminum tube--also length tbd--glued between the struts will cover the axle and give structural support.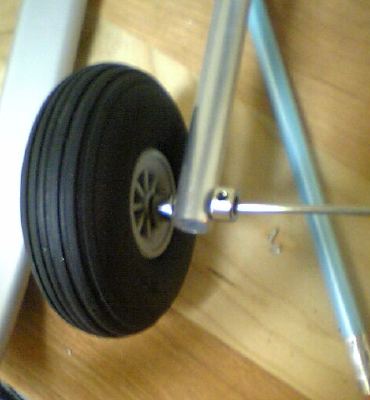 I drilled out a 1/2" hole about 3/4 the way down the main struts. the smaller struts fit tightly at a 90-degree angle. The small wheels just go on little model airplane axles on each strut [above], which will get cut down to nothing. Still haven't decided about gluing an aluminum tube, axle-like, as a brace between the two struts, but I probably will.
The whole "measure twice, cut once" thing goes double here. I had to eyeball the placement of the struts, and I'm still guessing on stability. I assume that farther back the better, though, so the rear wheels are nearly parallel with the rear edge of the basket. I laid the thing sideways, with the wheels on the edge of the table--as if it was the ground--to make sure the pushing angle worked, too. FWIW, the small struts are 10 3/8" long, about 5/8" of which is inside the main strut. They intersect 7.5" up from the bottom of the main struts. This'll make more sense in pictures, and I'll put the whole thing on a flickr photoset when it's done.

I mocked up the rig, fitting everything together, and it looks/stands alright. When we get back, we'll have one more Christmas, because otherwise, all the kid's getting from me is Bunny Foo Foo, and there's no telling how that'll go down...