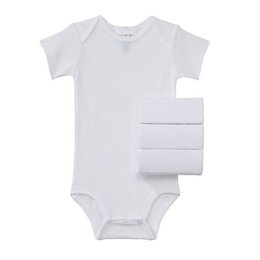 In this time of giving and holiday cheer, it's important to remember the less fortunate, to offer them our love and support, and to share with them of our bounteous blessings.
That's why I'm announcing that Daddy Types will give a dollar to the first ten people who email me before they buy the Carter's "Just One Year" bodysuits at Target.
To get these down to a Target-level price, Carter's has used cheaper materials and construction. Basically, you're saving 85 cents on each bodysuit. [JOY works out to $2.25 a piece, vs $3.08 for normal Carter's.] To me, it's just not worth the savings.
The JOY cotton quickly loses its shape and gets all baggy, and the snaps are a pain, both to open and to close. If you're a Carter's customer who's trying to economize while still holding onto the Carter's brand goodness and quality, let me tell you, this dollar is for you. You know what? Make it two dollars. Use it towards getting some real Carter's bodysuits.
You don't believe me? Fine. Buy a 4-pack of JOY bodysuits from Carter's, $8.99 at Target [target.com]
Meanwhile, a 5-pack of normal Carter's bodysuits is $15.40 on Amazon [amazon]