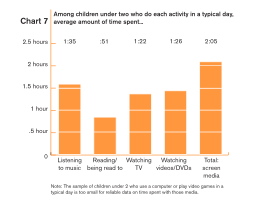 The Kaiser Family Foundation has just released the a hugely important study, "Zero to Six: Electronic media in the lives of Infants, Toddlers, and Preschoolers." It's the first ever study of electronic media that looks at kids under the age of two, and the results are fascinating, disturbing, and obvious, all at the same time. You should definitely read it yourself. Meanwhile, here are some highlights:

74% of kids under 2 have watched TV.

60% watch some TV almost daily, 43% watch every day.

The average amount of time a kid 0-4 spends each day watching TV or video/DVD's is 1.75 hrs.

26% of kids under 2 have a tv in their room.

Contrary to the forest of educational benefits claimed or implied by producers of electronics and media, there is NO known (i.e., verified or identified by research) benefit to kids under 4, much less under 2. The whole area is a giant research and consumer safety/impact black hole.

Kaiser Foundation's Vicky Rideout told the NY Times, "If parents are thinking, 'I need a break, I'll put my 4-year-old in front of this nice harmless video,' that's one thing. But if parents are thinking, 'This is good for my 3-month-old, it will help her get ahead in the world,' that's another." Inadvertently left out of the study, apparently: the all-important "I need a break and a shower and to check my email, I'll put my 6-month-old in front of this nice harmless video" demographic.

The NY Times article is worth a read, too, if only for its star, a mother of an 11-month-old named Jetta [niice.] who says things like "We own everything electronic that's educational - LeapFrog, Baby Einstein, everything," and "there's only one thing better than having a baby, and that's having a smart baby." A source like that is Christmas come early for a reporter.

New Report on Educational Media for Babies, Toddlers, and Preschoolers [kff.org, read the report in pdf]
If her name's Jetta, the answer is obviously 'yes, and giftwrap it':
See Baby Touch a Screen. but Does Baby Get It? [nyt]