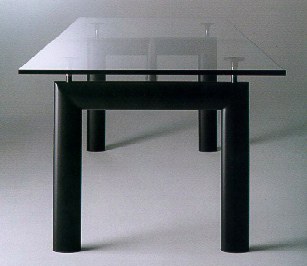 First shown at the 1929 Salon d'Automne in Paris, the LC-6 dining table by Le Corbusier, Pierre Jeanneret, and Charlotte Perriand, instantly became a design classic. It has been produced by Cassina under exclusive license from the Le Corbusier Foundation since 1964. The height of its sleek glass top can be adjusted between 27.2 and 29 inches, but other than that, it's near-perfect proportions have remained unchanged.
DT reader Jeremy's daughter Holden, on the other hand, has undergone quite a few changes since her debut in Autumn 2004. The most notable--and alarming--changes: a rather significant increase in height [in the high 20-inches, at least] and a sudden desire to walk [and to run into sharp edges of high-design, glass top dining tables].
Since he's grown rather attached to both, Jeremy would like it if these two could get along without serious disfigurement, either of the kid or of the table.] Corbu's dead, so we can't ask him what to do. [He'd probably say, "demand the governess keep the children in the nursery" anyway.] A ThudGuard's out of the question. And the Toddler Shield, even in black, is probably the babyproofing of last resort. Has anyone had success with a less ugly option?