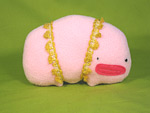 Blobby Farm is in Indiana--apparently, it's The Crossroads (Of Craftiness) State. The folks there make all sorts of unique plush characters by hand, characters which are all imbued with little profiles of telling personality quirks. Loaf 5 Jr., for example, "is a solid friend with a reliable heart" who's "currently doing Google searches for Umberto Eco." To me, Loaf looks like the hive queen from the end of Starship Troopers. For just $10, I'd be happy either way. They also do mittens and bibs.
Lawyers in Indiana point out that these creatures have not been certified for infant or child use, and so exist solely as art objects--art objects that the Blobby Farmers are constantly giving to their friends' small children.
Blobbies are $25-38, and Blobbies Jr. are $10-15 at Blobby Farm [blobbyfarm.com]
Previously: Sweet Juniper's Merry Indie Christmas list
Blobby Farm was in "In Plush We Trust," an exhibit by Shawnimals, the Ninja guy, at Chicago's Rotofugi.