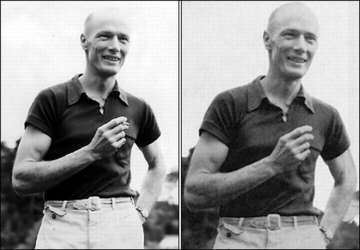 The NY Times thinks the big story here is that Harper Collins digitally removed the cigarette from the jacket cover photograph of Clement Hurd, the illustrator of Goodnight Moon.
I think the real story is that the book sells 800,000 copies a year. And 600,000 of them are boardbooks. Each board book is 0.7" thick. Stacked and held together with a 0.3" layer of mush, they'd reach 9.47 miles high. Counting from the 1947 publication date, that stack will reach the moon in only...oh. Not until 25170 AD. Never mind, they're right. The cigarette thing's the bigger story. Sorry to bother you.

'Goodnight Moon,' Smokeless Version [nyt via dt reader kaz]
I'd say "Buy Goodnight Moon at Amazon," but you probably already did. And if you didn't, even with an aggressive chew rate, there are probably 20 million decent used copies floating around out there to choose from.