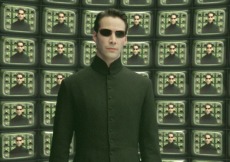 Ahh, the 1970's. It took either 6,970 years [counting from Adam] or 3 million years [countiing from Paranthropus robustus] for human beings to develop a society advanced, self-aware, sophisticated, and free enough for an idiot like Les Knight to even be possible. And now he wants to wipe it all out.
As SF Gate writer [and anguished potential dad-to-be] Gregory Dicum explains, Knight founded the Voluntary Human Extinction Movement, "an informal network of people dedicated to phasing out the human race in the interest of the health of the Earth." Impressed and alarmed by the looming threat of overpopulation ["At this rate, we'll have a 100 billion people by 2020--if the Russians don't blow us all up first" Sound familiar?], a 25-year-old Knight got a vasectomy.
Since then, he's been preaching voodoo Malthusian environmental economics to virile, young Vegan environmentalists ever since, hoping to guilt enough of them into not reproducing, thereby saving the planet. Here's just one example [Feel rotten yet?]:
The average Ethiopian uses one 310th of what we use. So when an American couple stops at two kids it's like an Ethiopian couple stopping at 620.
There are so many places to go with this, but I just saw the end of
Matrix Revolutions
again, so I'm going nowhere but down: What if humans are
supposed
to wipe out the biosphere every 6,970-3mm years, the way periodic fires renew the forest? Or the way The Matrix eventually generates The One, who helps destroy and reboot the whole system? Hmm? [And more importantly, what does Knight's anti-'natalist' movement mean for San Francisco's chances to become
Starfleet headquarters
some time in the early 22nd century?]
Fortunately, Dicum seems to be swayed more by the emotional, instinctual, irrational optimism of having a child, not the pseudo-statistical math games of an aging boomer, who, by his own twisted logic, should be the AIDS virus's biggest cheerleader. So thanks for the great read, Vegan Greg, and if you come over to the dark side, we'll make sure there's a toy Hummer with your kid's name on it.
Maybe None. Is having a child--even one--environmentally destructive? [sfgate via dt reader david]