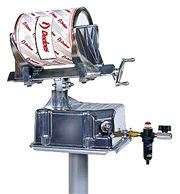 I was listening to the radio the other night on the way to the gym. Turned out to be "Married to the Military," a documentary from American Radioworks about the challenges of life in a military town, Fayetteville, NC, home to Fort Bragg. The few minutes I caught were especially relevant to dads.
Obviously, it's a tiny percentage, but kids near NC's military bases are twice as likely to be murdered by their parents as kids in other parts of the state.

Military parents are often quite young and lack crucial family support systems nearby. The extensive military-provided support resources are often under-utilized or under-publicized.

Soldiers often proved wary of programs they knew about, too:
"We used to have a smaller program that was called Boot Camp for Daddies. It was trying to teach a father how to take care of his child. Well, if you think about it, soldiers don't have a real attractive view of their boot camp. So we changed the name to, you know, Babies 101 for Dads, and then we had an increase in the number of people who came to that."

Getting good attendance at the dads' class could save lives. McEvoy of the Child Advocacy Center says Fort Bragg and the surrounding communities have higher than average rates of shaken baby syndrome.

McEvoy explains, "Babies that are shaken or thrown against the wall or on the floor of that type of thing. And a lot of people just don't know not to shake the baby."
Read or listen to the whole program at American RadioWorks. [publicradio.org]
Don't shake babies. I repeat, DON'T. SHAKE. BABIES. [dontshake.com]