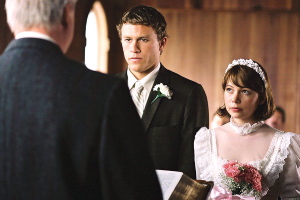 Seems that Heath Ledger and Michelle Williams had their baby Friday evening in NYC, so congratulations all around.
They named the kid Matilda Rose Ledger, which has Australian fans all excited because apparently "Waltzing Matilda" is "the unofficial song of Australia." Which is odd, I thought, because Bon Jovi did a cover of a Tom Waits song called "Waltzing Matilda." Same but different song.
Turns out the Australian version is about a lonely bum looking for some forbidden love on the open range. Which would be odd enough, if that weren't also the plot of Brokeback Mountain, the movie where Williams & Ledger met. The only difference: one involves sheep, the other involves sheep and Jake Gyllenhall.
As for the Bugaboo bag clips, which "Heath & Michelle" registered for last summer at Buy Buy Baby, I only ask rhetorically if they got them. Since I happen to know the name and address in Brooklyn where they were shipped--and it was NOT the Williams Ledgers. Yes, the Cohens kept them. No, they did not send a thank you note.
Heath Ledger & Michelle Williams' baby has arrived [the aptly named fansite, heathbaby via celebrity-babies]
Previously: Report From 'Heath Ledger''s Buy Buy Baby Registry [dt]
So you want to read Brokeback Mountain [greg.org]
too much Waltzing Matilda info for non-Aussies [anu.edu.au]