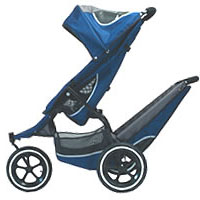 Check this out. It is important to know that Marjorie, the DT reader who sent this in, was into Phil & Ted's waaaay before Jon Stewart made them cool:
a fellow phil & ted owner in downtown manhattan reports being stopped recently by a good-looking fellow in a baseball cap who asked a lot of questions about the phil & ted and told my friend he was expecting his second kid and the phil & ted looked really cool. that man, sir, was jon stewart.

really enjoyed the slate piece.
Phil & Ted's
: the world's best stroller for kissing butt.