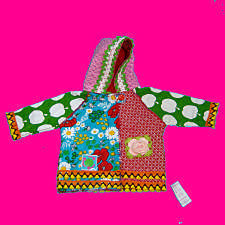 What is it with Holland, the dark winters? The North Sea? Backlash to that stern Protestant sobriety? Because they sure love their dressing their kids up as expensive ragamuffins with more-is-more, pattern-on-pattern, the-brighter-the-better clothing. [there goes my hyphen quota for the week.]
Anyway, Oilily has taken the riotously matchy Dutch ragamuffin look to the world; there are dozens of stores, a glossy catalog, a fanatically loyal following. [And it's pronounced Oy-LILL-ee. I called some of those stores just to see how they answer the phone.]
The problem with Oilily, of course: it's too common, at least in certain circles. There's always the risk that someone else at the embassy barbecue* will be sporting what you thought was your kid's signature look.
Although it's not any easier to pronounce, there is a solution: Flobberdewotsky. Flobberdewotsky is a Dutch design studio that uses vintage, retro, and recycled fabrics to create unique [as in, "the only one like it in the world"] pieces of kid's clothing. It's like Oilily on 'roids, but with artistic cachet and a social conscience.
For the enlightened and the bold, Flobberdewotsky's clothes are "not meant to be for either boys or girls. We cannot help it if present-day society won't let boys wear skirts." When buying something, pay careful attention to their sizing chart; it'll save you the embarassment of asking, "Do you have this in a different size?" Because they don't. It's that unique.
If you want to take baby steps, you can get a t-shirt or a bib, or you can be loud and proud with a padded vintage fabric baby sling. Alls I know is, your kid won't ever see herself coming at her on the street.
Flobberdewotsky vintage, retro, kitsch kid's clothing - the coat above is/was EUR110 [flobberdewotsky.nl, via dt reader Jan]
Oilily - compare and contrast [oilily-world.com]
* For our first little Oilily purchase before the kid was born, we waited forever as a gaggle of diplomat wives from some impoverished African countries kept piling a mountain of pink clothes on the counter faster than the clerk could ring them up. The women paid with fat rolls of hundreds. Your IMF dollars at work.