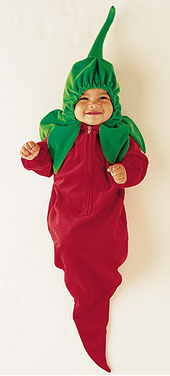 Haven't given a lot of thought to the kid's Halloween plans yet, but one thing's for sure: she's not gonna have some "top ten" costume. One list on Blogging Baby--"Darth Vader, Batman, the Fantastic Four, Harry Potter, and Dora the Explorer"--reads like the cover stories from the magazines in the dentist's office.
If you feel your kid must have a character costume--and you don't want to cover her in bronzer and use her as part of your own Angelina Jolie get-up--what about Mr. Hankey, The Christmas Poo?
A Mr. Hankey costume for an infant would be as easy to make as one of those peapod or red chili pepper costumes ["bunting"? what is that, no leg openings?], but no. I can't find one anywhere. Why is that?
[Normally, this would be the place where I'd point you to some crafty website with costume patterns you can sew yourself. Sorry, not this time. If a homesewn brown fleece poo costume for your kid is actually an option, the sewer [heh] will already know a lot more than I do about where to find an adaptable pattern. Besides, I'm too busy learning how to knit robots.
Red Hot Chili Pepper Bunting [careful, everyone in your gated community shops at babystyle, too, you know]
Hot Halloween costumes: top 10 include Darth Vader, Dora [bloggingbaby]
[update from the comments: RedEnvelope.com's peanut costume looks like a great jumping off point for making your kid's Mr. Hankey costume. ($36)]