<!form method="get" action="http://dt-go.com/cgi-bin/mt/mt-search.cgi"> <!input type="hidden" name="IncludeBlogs" value="3" /> <!input type="hidden" name="Template" value="daddy" /> <!input id="search" name="search" style="width: 270px; height: 15px;" /> <!input type="image" src="http://daddytypes.com/search.gif" height="18" width="159" border="0"> <!/form><!br />
What's Up With This Playmobil Security Check-In?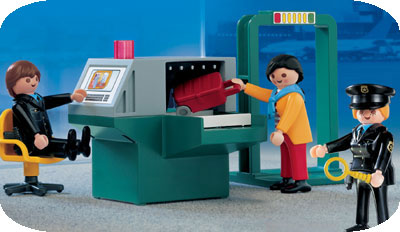 First things first: Playmobil is not intended for children under 3; you know how full of terrorists those nursing lounges and subway strollers are, and you it'd be downright un-American to help them plan out their little security-evading scenarios.
But when the Playmobil Airport Security Check-in [#3172, if you're keeping score at home] first turned up on some blogs a few weeks back, I was skeptical, so I fact-shopped it on Amazon. Sure enough, there it was. Keyword in that sentence: was. It's gone now without a trace. Call me a Constitution-hugging child of the Enlightenment if you want, but it seems like this politically tone deaf toy was spirited away to Amazon's own private Gitmo somewhere. Am I wrong?
Fortunately, Playmobil is still offering it for sale on their site. Still, I'm gonna pass on it. Although the wanding cattle prod thing is authentic-looking enough, someone pointed out that the shoes don't come off, the grandma's blouse doesn't open for inappropriate strip searches, and there are no brown-skinned figurines to be spirited away for "interrogation."
Playmobil Security Check-in (#3172), $14.99 [playmobilusa.com]
posted October 13, 2005 1:21 PM | add to del.icio.us | digg this
<!something is wrong with my adserver, so until I fix it, no ads>