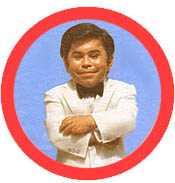 A company's selling "If lost, please call " temporary tattoos for kids, but they still require you to write your phone number on there with a marker. Set aside the lost&found strategy questions of tattoing vs. labeling vs. stuffing a note in his shoe for a minute. What I really want to know is, What WOULD you tattoo on a kid?" [Temporarily of course.] Any ideas?
It could be a text, an image, a graphic, an idea, whatever. It could be funny, serious, functional, aesthetic, whatever you think. A heart with "Dad" on it? "Your Logo Here"? "Hello, My Name Is [Sofia]"? "Hello, My Name Is Not [Sofia]"?
If someone comes up with something good, I'll have a thousand of them made [that's the minimum order at most temporary tattoo joints], give a whole bunch of them [along with a daddy type t-shirt] to the winner, and distribute the rest via Daddy Types to whoever wants them.
That means a skank design won't win, because I don't want to be stuck with 800 skanky tattoos I can't even give away. Also, it probably won't be a design/idea that's already out there, because what'd be the point? And yes, I've already thought of "daddy type," and rejected it; even in my most shameless, self-promoting moments, I can recognize how weird that'd be to tattoo on a kid. I'm going to reserve the right to admit the whole thing was a really bad idea from the start, but I'm hoping someone out there will prove me wrong in a most interesting way.
Previously: Tattoos With A Purpose