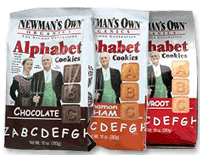 Wow, my wife brought these home last night, and I am POUNDING these things even faster than the kid is. Newman's Own Alphabet Cookies are organic, low in fat, low in sugar, taste great in a not overpowering way. They're kind of hard and biscuity, but they're really good. We've only tried the cinnamon graham, but I'm sure Arrowroot and "wheat-free, gluten-free" are "popular" in their own niche markets (Indians and allergy sufferers, respectively).
Unfortunately, they're only available in the English alphabet, so no accents or umlauts or those odd smushed together letters the Scandinavians like so much. They ARE, however, made in the U.S.A.
Paul Newman himself seems to have stepped back from the company since its "all profits to charity" salad dressing days, though I don't hear many Keebler elves talking about donating all their royalties to charity.
Newman's Own Organic Alphabet Cookies [newmansownorganics.com]