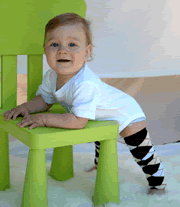 For some of you, legwarmers may be too closely linked to formative teenage memories of Flashdance, water-soaked exotic dancers, and Jennifer Beals' jiggling body doubles to allow you to consider putting your own child in a pair of Baby Legs even for one second. She's not leaving the house dressed like that.
For the rest of you, who find tights--or pants, for that matter--a pain to deal with during diaper changes, and who like the idea of warming your kid's chubby little legs with cow-print or flame-licked sweater sleeves, Baby Legs are just the ticket.
I assume they stay on. And I assume that very soon, they'll use their top-secret stay-on technology to make a pair of baby socks that stay on, too. What a feeling that would be.
Baby Legs, $9.99 at Wild Child [wildchildpdx, via dt reader christy]