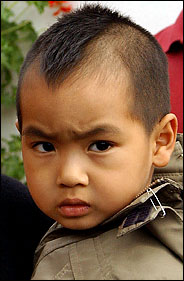 Coincidence??
Fox News Exclusive Friday: Angelina Jolie's kids--the most influential nippers in the world--singlehandedly launching hot trends in hairstyles, fashion, and third world adoption. Just look at this:
Zahara has apparently turned the until-now utterly obscure "Baby Bjorn" into one of "this year's must-haves" for people trying to carry their kid like a celebrity. [And only $79.99!]

And forget Cambodians, they're so 2003. Ethiopians are now the must-adopt nationality, says New York mom Terry Wasserman. "I live in New York City. Babies have become fashion accessories. Kids are now fashion accessories," says Wasserman, who nevertheless insists "she bought hers out of practicality rather than stylishness."

How to explain the Mohawk madness gripping the nation right now? Two simple words: Maddox Jolie. Even David Beckham got one, Fox reports, "seemingly thanks to Maddox's Mohawk." Skeptical? Then tell me why the liberal NY Times copied Fox's story, right down to the mention of Jennifer Connolly and Paul Bettany? Hmm?

But the question's not whether this kind of celebrity-chasing happens. It does. The question is, "How ridiculous is it?" Or to put it another way, "How ridiculous is it compared to tracking down Seal's car seat?"

'Saw It on Maddox': Jolie's Kids Set Trends [foxnews, via dt reader Christy]

Images:
Maddox via ONTD - Maddox is a fashion icon!
Beckham via Sydney Morning Herald, "Female fans style pubic hair like Beckham's Mohican."